Divyanka Tripathi writes to PM Modi on twitter over gang rape of minor girl in Chandigarh
Yeh Hai Mohabbatein fame Divyanka Tripathi took to Twitter to express her fear of having a daughter after reading about a minor's rape in Chandigarh
Popular TV actress Divyanka Tripathi (aka Ishita of Yeh Hai Mohabbatein ) was extremely disturbed after reading about a minor's rape in Chandigarh on Independence Day. The 12-year-old was returning home after attending her school's celebrations for 15th August, where she was allegedly assaulted and raped inside the Child Traffic park.
Divyanka, who is in extreme fear after learning about the incident said that she is now scared of having a girl child.
The Yeh Hai Mohabbatein actor ranted in a series of tweets which she addressed to PM Narendra Modi, saying she can teach her daughter all the good values and still cannot guarantee her safety from the rapists which prevail on the streets across the country.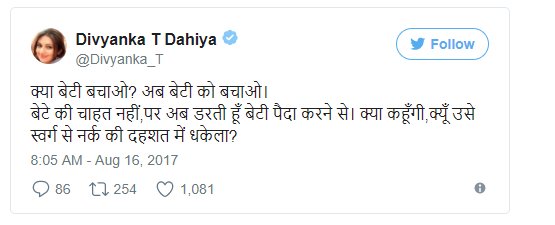 She also wrote, ''Why don't we give gruesome punishments for gruesome crimes? Yet another rape! What independence are we talking about? Women must stop voting for any party as they are so unimportant for this nation! It's a 'No Woman's Land' or a #RapistsParadise we live in!"
For what must we vote? 70 years of independence hasn't set us free! All parties must WAKE UP NOW! Every woman deserves security! https://t.co/ozvAboOsob

— Divyanka T Dahiya (@Divyanka_T) August 16, 2017
She urged the Prime Minister to rid the streets off such low lives under his Swachh Bharat Abhiyan.

Playing headstrong female characters in her TV shows, the actor showed her roles were a mere extension of her real life persona. Divyanka has always been vocal about social issues. Earlier, she had spoken in support of the BSF jawan, who had taken up the issue of bad quality food being served to soldiers on border.
Divyanka Tripathi is known for her role as Ishita in Yeh Hai Mohabbatein. She has earlier stared in shows like Banoo Main Teri Dulhann and Chintu Chinki Aur Ek Badi Si Love Story. Divyanka is married to television actor Vivek Dahiya, who has a recurring role in Yeh Hai Mohabbatein.
Also See:
Divyanka Tripathi Wedding PICS – The Most Badass Bride Ever
Divyanka Tripathi on Sonu Nigam's 'azaan' controversy
Divyanka Tripathi, Mouni Roy, Ekta Kapoor dance to Beat Pe Booty challenge
Please follow and like us: