Koffee With Karan 5 – Five Things we loved in episode 1 with Shah Rukh Khan and Alia Bhatt
Star World Koffee with Karan season 5 Episode 1: Alia Bhatt, Shah Rukh Khan are a candid delight
One of the most anticipated shows of the year Koffee with Karan 5 (KWK5) has finally begun and the audience was glued to their TV screens on Sunday evening, trying to catch up on every single word that was uttered by the first guests – Shah Rukh Khan and Alia Bhatt. 
Though SRK, who happens to be a good friend of host Karan Johar has been a regular at the show, for Alia Bhatt this is her second year and third appearance.
The first episode was as charismatic as ever as the superstar graced the couch with his Dear Zindagi co-actor Alia Bhatt. SRK and Alia  will be seen opposite each other for the first time in ever in the Gauri Shinde film. 
Apart from laughing at silly things to mocking at each other and ganging up against one another, here are the top 5 things that kept the audience glued to their screens.
1- Shah Rukh Khan's charm that came out in the form of performances: Shah Rukh Khan was a sport during the entire episode. From showcasing his brilliant acting skills that ranged from the deep baritone that defined Shakespearean acting to the seductive tones of a lover to the loud convictions of a famous journalist who would love to know everything, SRK did everything possible to win many a hearts.
Here's a word straight out of @iamsrk's personal dictionary! #KoffeeWithKaran #KoffeeWithSRK #KoffeeWithAlia pic.twitter.com/i8mLYXDpP8

— Star World (@StarWorldIndia) November 6, 2016
2- Alia's confession of stalking Kangana Ranaut: Though the rapid fire round was super hilarious, Alia made some serious confessions which raised eyebrows. When asked which actress in Bollywood would she like to stalk had she been invisible? Alia didn't think twice before saying Kangana Ranaut's name. When prodded further by Karan, to know about the reason behind it, a totally confident Alia said that she loved her airport looks and wanted to know where she was going, and where her plane was landing. Guess there are a lot of actresses in the tinsel town who might be wondering the same!
Now you know why she is @mrsfunnybones! #KoffeeWithKaran pic.twitter.com/ihyhcpsQvj

— Star World (@StarWorldIndia) November 6, 2016
Someone's brushed up on their general knowledge! #KoffeeWithAlia pic.twitter.com/s3vURYDFgN

— Star World (@StarWorldIndia) November 6, 2016
3- Shah Rukh Khan introduces a new word: The youth is going to soon add another cool word to their dictionaries. SRK introduced the word "Demotional" meaning "Detached but emotional", which is soon going to be used in the everyday lingo by the youngsters. He has termed it as a unique ability of the youth in today's time.
4- Alia proves her love for pop culture: No one's cooler than the Student of the Year actress when it comes to guessing brands, especially when it is a luxury brand that we talk about. When Shah Rukh Khan wrongly guessed Coco for being Coco Cola, Alia corrected him by saying it is Coco Chanel. You go girl! After witnessing a rather doubtful and not so correct young actress in the previous season of Koffee with Karan, when Alia mesed up several questions, we were happy on seeing her giving answers bang on.
5- Alia being vocal about her fondness for Katrina Kaif: We have always seen a fiercely open minded Alia talk about almost everything with Karan on National television. She heaped praises on her industry colleague Katrina Kaif endlessly and revealed how her admiration for the actress was unbound. The Dear Zindagi actress also revealed that Katrina is one actress she would happily have a liaison with. We sure noticed Karan and Shah Rukh Khan's reaction on hearing that, but that doesn't stop Alia's fans from loving her. This is what they like about the young actress.
The first episode was a major hit among fans as who else would have been a better choice than the King of Bollywood himself to begin a new show.
Check out more Pictures/Images of Alia and Sharukh Khan in KWK5!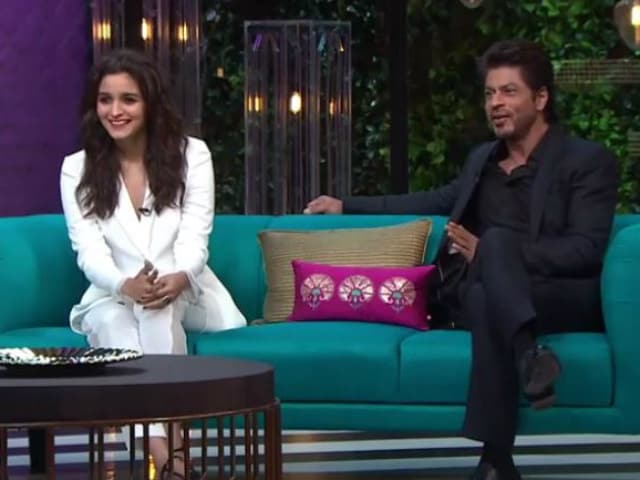 ALSO SEE
Find out who is Surbhi Chandna aka Anika of Ishqbaaz dating?
Iqbal Khan to make a cameo in Zee TV's Ek Tha Raja Ek Thi Rani
Shakti latest news – Nimmi and Maninder to die
Yeh Rishta Kya Kehlata Hai – Mujhse Dosti Karoge angle, Diwali drama, Goenka family to bring more twists
Shakti Spoilers – Harman to run away from mandap on wedding day
BIGG BOSS 10 GOSSIPS – FIND OUT HOW MUCH SALMAN KHAN, CONTESTANTS GET PAID
BIGG BOSS 10 CONTESTANT AKANKSHA SHARMA IN IS LEGAL TROUBLE
SHARAD MALHOTRA'S LOVE-MAKING SCENE FROM 'EK TERA SAATH' GOES VIRAL 
RUBINA DILAIK – HEARTBREAK HAS MADE ME A STRONGER WOMAN  
VIVIAN DSENA – WILL NOT DIVORCE VAHBIZ, MAKE OUR MARRIAGE WORK
SRITI JHA IS DATING KUNAL KARAN KAPOOR    
Please follow and like us: